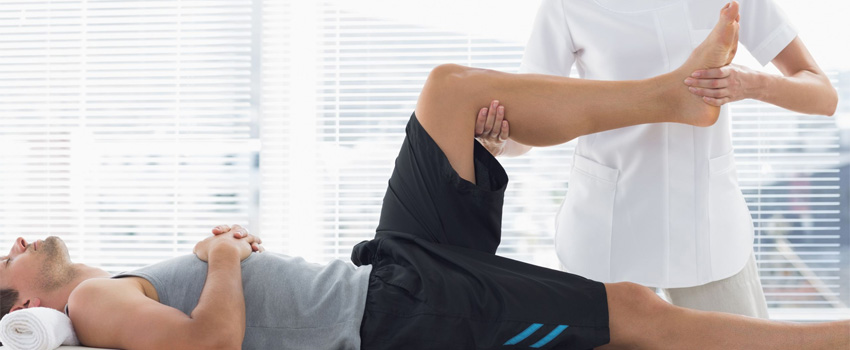 Physical Therapy
Physical Therapy can be one of the most effective ways of treating an athlete who is suffering from a sports injury. Physical Therapy facilitates a speedy recovery and help athletes quickly return to field or court. Activities like football, weight training, basketball, baseball, tennis, swimming, and golf are likely to cause injuries. With physical therapy, various sports injuries including, tendonitis of all kinds, shoulder injuries, jumping/cutting/landing injuries, ACL/MCL injuries, running injuries, fractures, head injuries, neck injuries and tennis injuries can be treated.
Sports Therapy: How It Works
Physical therapy treatment for sport injuries includes a variety of modalities such as Hot Packs, Cold Packs, Electrical Stimulation, Range of Motion, Strength Training, Stretching and Ultrasound to heal the injured tissue. In addition, medical massage is incorporated in the physical therapy treatment plan to increase overall circulation and achieve the best possible health. The physical therapy treatment administered for sports injuries helps to:
Decrease Pain And Swelling
Increase Functionality of Injured Area
Maintain Strength/Endurance
Prevent Further Injuries
At SportsMed Physical Therapy, our therapists will begin each session with an initial evaluation. This eval is designed to help understand the scope of the problem. Our therapists will ask questions regarding your day to day activities, lifestyle, areas of pain and medical history. If your sports injury was caused by a trauma or serious condition, your physical therapist will consult with your doctor to make sure the care they provide is appropriate for you.
Sports Therapy: Education and Exercise
Physical therapy treatment for sports injuries is the best option for athletes who wish to return to their normal sports activities quickly. SportsMed's Physical Therapists will also give tips on preventing further injuries.
Following the guidelines of your physical therapy sessions should allow you to feel better faster, and stay pain-free following your recovery. Call SportsMed Physical Therapy if you experience any of the following conditions:
Tennis Elbow (Lateral Epicondylitis)
Golfer's Elbow (Medial Epicondylitis)
Shoulder Pain / Shoulder Instability
Rotator Cuff Injury
Stress Fracture
Muscle / Ligament Sprain / Strain
Meniscus Tears
ACL / PCL Tear
MCL / LCL Sprain / Strain
Achilles Tendonitis
Shin Splits
And Any Other Sports Related Injury